Digital Archiving of Linguistic Fieldwork Cassette Tapes
UP Diliman Extension Grant (Project Nos. 191917-UPD EG and 222214-UPD-EG )

---
About the Extension Project
The UP Department of Linguistics carries in its archive cassette tapes that hold language data collected through the research projects of the Department faculty members and researchers. Most of these legacy materials are in urgent need of rescuing and long-term preservation of these data is desired in order to use them for research and teaching.The goals of this project are threefold -- (1) convert these analog data into digital data; (2) start a language data digital archives for the Department; and, (3) produce dissemination copies (subject to Department ethical clearance). Repatriation is also envisioned as the next phase of this project.
---
749 Cassette Tapes
The cassette tapes were acquired from a donation by former Chair and Professor of the UP Department of Linguistics, Dr. Ernesto A. Constantino through Dr. Pamela C. Constantino in December 2013. The tapes were recorded during fieldwork led by Dr. Constantino and the Department of Linguistics researchers and faculty from the 1960s to 1990s.We are currently working with the remaining 733 tapes which translates to around 1,400 hours of linguistic data.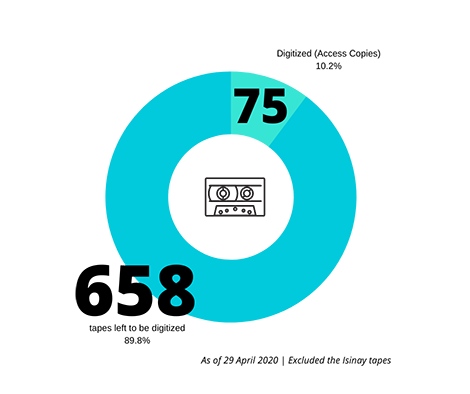 ---
Tape Contents
Aside from the word and sentence lists, we are looking to get kinship terms, place-name etymology, songs, prayers, origin stories, and other narratives from the speech communities. Some tapes identify the names of the language consultants which will be vital for an envisioned repatriation program after this project's conclusion.
---
70+ Languages & Dialects
Based on the cassette tape labels and notes inserted inside the tape cases, we are looking at digitizing data recorded from these languages/dialects and fieldsites. We retained the terms and codes used by the researchers (numbers in parentheses are the units of cassette tapes). These will be updated accordingly when data are processed.
ABELLEN (20)

ADS (22)

AGUTAYNEN (6)

AYTA (13)

AYTA MAGBEKEN (2)

BALANGAO (19)

BATAK (4)

BATANGAN (13)

BAYTAN AYTA (10)

BIKOL (4)

BIKOL LIBON (11)

BINUKID (21)

BINUNGAN (10)

BLAAN (10)

BOLINAO (13)

BONTOK (5)

BUHID (13)

BUTBUT (2)

BUWI (6)

CANTILANGNON (1)

CHAVACANO (12)

CUYUNON (3)

DPN (1)

DUMAGAT (2)

FINALLIG (10)

FKI (15)

FONTOK (1)

HIGAONON (13)

I-WAK/IUWAK (3)

IBALOY (6)

IFUGAO (16)

IFUGAO MAYAOYAO (2)

IFUGAO TUWALI (12)

INATI (10)

IRANON (3)

ISAMAL (1)

ITAWIS (2)

ITNEG (6)

KABULLOWAN (13)

KALINGA (46)

KALLAHAN (13)

KALLAHAN-DADANGAN (2)

KAR (1)

KAYASAN-BATAK (3)

KGK (7)

KGY (5)

KIS (2)

KLS (19)

KOMYAAS (1)

KYS (2)

LGK (5)

MAASINHON (2)

MAMANWA (16)

MARANAW (18)

MASADIIT-SALLAPADAN (17)

MASBATEÑO (21)

MOLBOG (1)

NABWANGAN (1)

PALAWAN (13)

PARANAN (34)

RATAGNON (1)

ROMBLOMANON (17)

SAMA (15)

SAMA BANGINGI (2)

SAMA MAPUN (5)

SAMA PANGUTARAN (7)

SAMBAL (12)

SAMBALI (3)

SANGIL/SANGIR (3)

SURIGAONON (6)

TAGABAWA (2)

TAGAKAOLO (1)

TAGALOG (21)

TAUSUG (11)

TEDURAY (31)

TINGGIAN (15)

YABYAB (2)
NOTE: There are also cassette tapes with no identifying labels/notes.
---
Current Status of the Project
We are producing access copies of the tapes (MP3 format) in order to contribute to the digital archives of the UP Department of Linguistics. These copies may be utilized by the community, faculty, students, and researchers in their research or as part of a classroom activity/work. We hope to produce lossless conversions which is the standard in digital archiving once the Department has acquired the equipment necessary to produce such a format.This October 2022, the project is continued with the support of the Office of Extension Coordination of the Office of the Vice Chancellor for Research and Development, University of the Philippines Diliman.
---
Contact Us
If you wish to inquire and/or help with the project, please email the Project Leader, Michael Manahan at [email protected]. You may also email the UP Department of Linguistics at [email protected].Project Members:
Althea Deossa Castro (Phase 1)
Jose Raphael Duran (Phase 1)
Jino Antonio Escudero (Phase 2)
Dustin Matthew Estrellado (Phase 1)
Janina Navarra (Phase 2)
Jherr Daven Velasco (Phase 2)
UP Department of Linguistics
Palma Hall Pavilion 1 Room 1325
University of the Philippines
Diliman, Quezon City 1101